homofobia
-
"irrational fear of, aversion to, or discrimination against
homosexuality or homosexuals,
or individuals perceived to be homosexual; it is also defined as fear or contempt for lesbians and gay men, as well as "behavior based on such a feeling"

.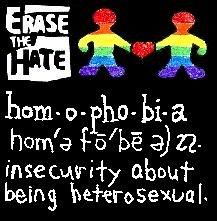 A: gay dan lesbian harus mati!

B: kalau tak layan lagu kami..kalian adalah pondan!

C: hidup macam dorang ni memang ke neraka la jawapannya

D: eei geli la aku tengok lelaki lembut tu..macam bapok pun ada.

alangkah hinanya mereka apabila selalu dicemuh dan dicaci oleh sesetengah manusia yang tidak bertanggungjawab.mengapa kita harus benci terhadap golongan ini?sedangkan mereka juga makhluk ciptaan tuhan.siapa kita untuk menghakimi mereka untuk kehidupan masa akan datang?ingat kita bukan tuhan untuk menentukan siapa ke neraka atau pun ke syurga.